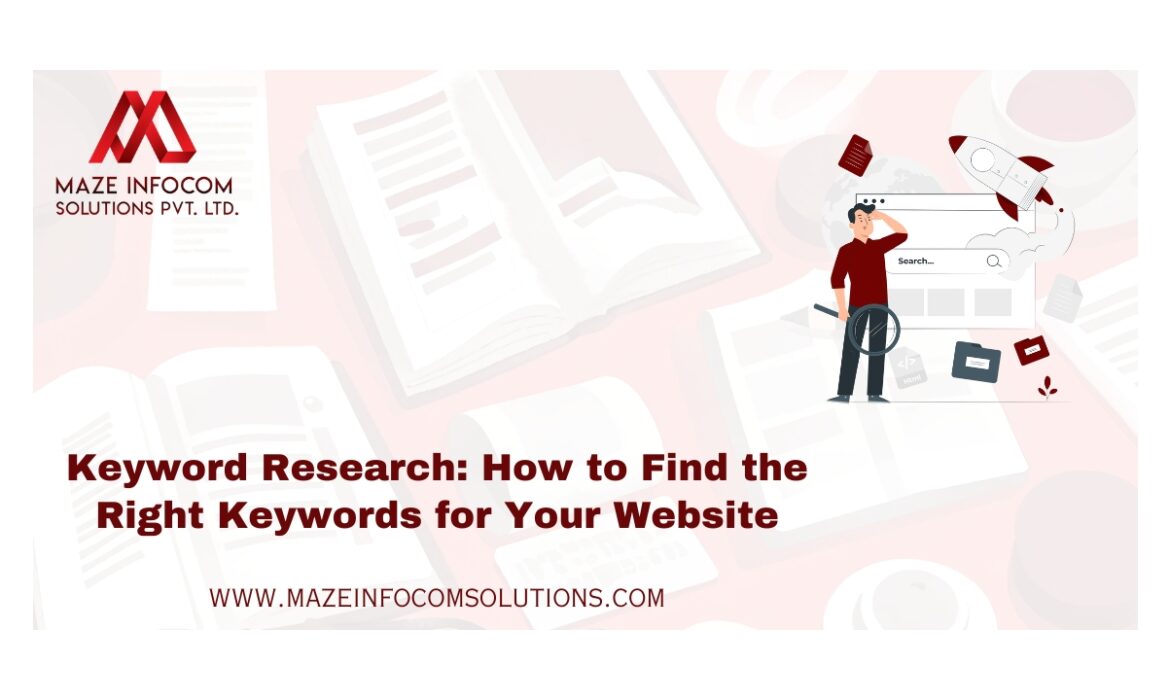 In the realm of digital marketing, one aspect remains unwavering—keyword research. Keywords are the linchpin of your website's visibility on search engines, connecting your content with users' search queries. To succeed in the digital landscape, understanding how to find the right keywords for your website is paramount. In this comprehensive blog post, we will explore keyword research and equip you with the knowledge and tools needed to optimize your website's visibility.
The Significance of Keyword Research
Before we delve into the intricacies of keyword research, let's first understand why it is so pivotal for your website.
Enhanced Visibility: Effective keyword research guarantees that your website ranks well in search engine results pages (SERPs). The right keywords allow you to connect with your target audience.
Competitive Advantage: In the highly competitive online arena, strategic keyword research sets you apart by helping you understand your competitors and how to outperform them.
Improved Content Relevance: Keywords guide your content creation process, ensuring that it directly addresses your audience's needs and queries.
Boosted ROI: Effective keyword research leads to higher conversion rates and a superior return on investment (ROI) for your marketing endeavors.
Initiating Keyword Research
Now, let's start your journey into the world of keyword research.
Understanding Your Audience: At the core of keyword research is understanding your target audience. Their needs, interests, and pain points are vital. Utilize tools like Google Analytics and social media insights to gather valuable data.
Initial Keyword Brainstorming: Initiate your keyword research with a brainstorming session. Create a list of keywords and phrases that you believe are relevant to your content.
Competitor Analysis: Analyze the keywords that your competitors are targeting. Tools like SEMrush and Ahrefs can help identify their top keywords.
Essential Keyword Research Tools
Finding the right keywords necessitates having the right tools at your disposal.
Google Keyword Planner: A free tool that provides keyword ideas, search volume, and competition levels.
SEMrush: Offers comprehensive keyword analysis, competitor research, and site audit features.
Ahrefs: Known for backlink analysis, Ahrefs also offers a potent keyword research tool.
Moz Keyword Explorer: Provides keyword suggestions and aids in assessing keyword difficulty.
Ubersuggest: A free tool that offers keyword ideas and insights into top-ranking pages.
Selecting the Right Keywords
With your keyword research tools in hand, it's time to narrow down your list of potential keywords.
Search Volume: Seek keywords with a decent search volume. However, don't concentrate solely on high-volume keywords; long-tail keywords can be just as important.
Keyword Relevance: Ensure that the chosen keywords are directly pertinent to your content. Relevance is key for attracting the right audience.
Competition: Assess the competition for your chosen keywords. Some keywords may be highly competitive, making it challenging to rank well. Strike a balance between competitive and low-competition keywords.
Long-Tail Keywords: Long-tail keywords may have lower search volume, but they often convert better. Don't underestimate their potential.
Organizing and Implementing Keywords
Once you've selected your keywords, it's time to organize and implement them effectively.
Keyword Mapping: Assign keywords to specific pages or sections of your website to ensure that each piece of content targets a unique set of keywords.
On-Page Optimization: Integrate keywords into your content, headings, meta tags, and alt text naturally. Avoid keyword stuffing, which can harm your rankings.
Content Creation: Develop high-quality content that addresses the needs and queries related to your selected keywords.
Monitoring and Adapting
Keyword research is an ongoing process. Here's how to manage it:
Regular Audits: Conduct periodic audits of your keyword strategy to adapt to changes in the online landscape and your audience's behavior.
Tracking Progress: Monitor keyword rankings, organic traffic, and user engagement using tools like Google Analytics and Google Search Console.
In Conclusion
In summary, effective keyword research is the bedrock of successful digital marketing. Finding the right keywords for your website entails understanding your audience, using keyword research tools, selecting the most relevant keywords, and employing them strategically. Consistent monitoring and adaptation are crucial for sustaining and enhancing your website's performance in search engine rankings. For expert guidance, consider partnering with the best SEO agency in Mumbai.
The world of SEO is dynamic, and keyword trends can shift. Staying updated and flexible is pivotal for long-term success. With the right keywords and a well-executed SEO strategy, your website can soar to new heights in visibility and engagement.
Follow on LinkedIn