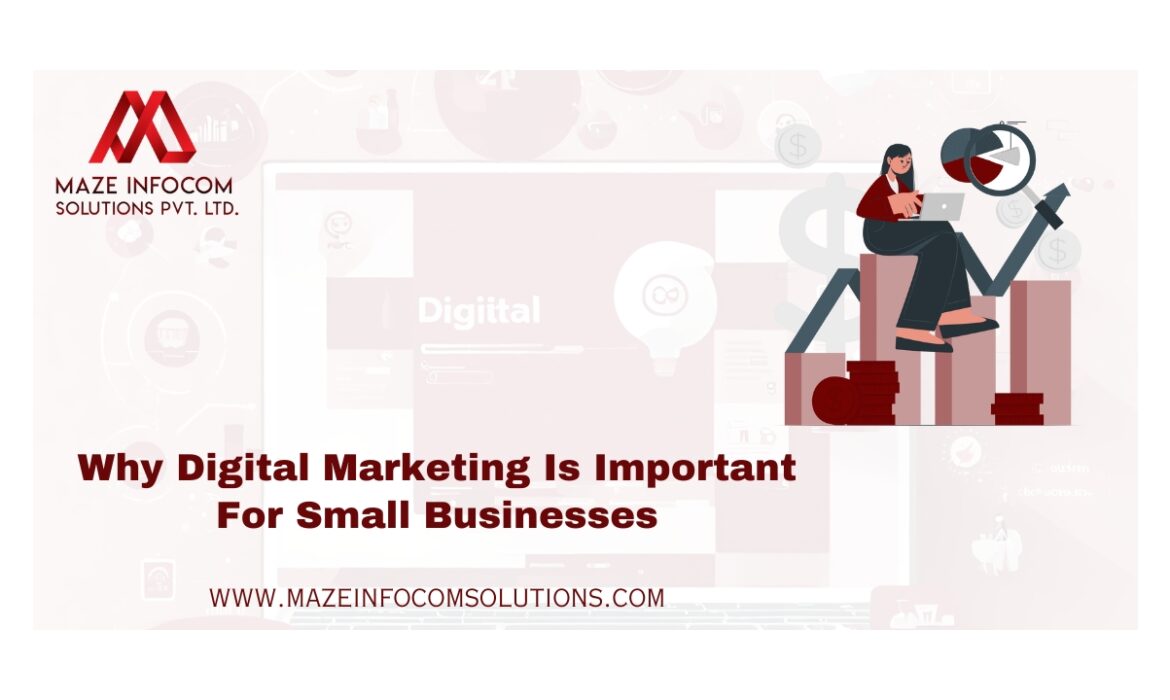 In the dynamic landscape of the modern business world, the significance of digital marketing for small businesses cannot be overstated. As technology continues to advance and consumers increasingly turn to online platforms for information and purchases, the adoption of effective digital marketing strategies has become a necessity for the survival and growth of small enterprises. This article explores the multifaceted reasons why digital marketing is crucial for small businesses, examining its role in enhancing visibility, building brand credibility, expanding reach, and driving overall business success.
1. Leveling the Playing Field in Digital Marketing
One of the most compelling reasons small businesses should invest in digital marketing is its ability to level the playing field. Unlike traditional forms of marketing, which often require substantial financial resources, digital marketing provides cost-effective avenues for reaching a global audience. Small businesses can utilize various online channels, such as social media, email marketing, and search engine optimization (SEO), to compete with larger enterprises on a more equal footing. This democratization of marketing resources allows small businesses to showcase their products or services without breaking the bank.
2. Enhanced Visibility and Brand Awareness:
In a world dominated by online interactions, visibility is paramount. Digital marketing enables small businesses to increase their online presence and enhance brand awareness. Through search engine optimization, businesses can optimize their websites to rank higher in search engine results, making it more likely for potential customers to discover them. Social media platforms provide an additional avenue for businesses to connect with their target audience, share content, and establish a recognizable brand identity.
3. Targeted Marketing Strategies:
Digital marketing allows small businesses to tailor their marketing efforts to specific demographics, ensuring that their messages resonate with the right audience. Through tools like social media analytics and online advertising platforms, businesses can gather data on consumer behavior and preferences. Armed with this information, they can create highly targeted campaigns that appeal to the unique needs and interests of their target market. This precision in targeting not only maximizes the impact of marketing efforts but also minimizes wastage of resources on irrelevant audiences.
4. Cost-Effective Advertising:
Traditional advertising methods, such as TV commercials and print ads, can be prohibitively expensive for small businesses with limited budgets. Digital marketing provides a cost-effective alternative, allowing businesses to allocate their resources efficiently. Pay-per-click (PPC) advertising, for example, enables businesses to pay only when users click on their ads, ensuring that they are not charged for impressions that do not lead to engagement. This cost-effective nature of digital marketing is particularly advantageous for small businesses looking to optimize their return on investment.
5. Engagement and Interaction:
Digital marketing fosters direct engagement between businesses and their audience. Social media platforms serve as valuable channels for two-way communication, allowing businesses to respond to customer inquiries, address concerns, and build meaningful relationships. By actively participating in online conversations, small businesses can humanize their brand, creating a sense of trust and loyalty among their audience. This personalized approach to customer interaction sets digital marketing apart from traditional advertising methods, where communication is often one-sided.
6. Measurable Results and Analytics:
One of the significant advantages of digital marketing is the ability to measure the success of campaigns in real-time. Analytics tools provide businesses with valuable insights into the performance of their marketing efforts, including website traffic, conversion rates, and customer engagement. This data-driven approach empowers small businesses to make informed decisions, optimize their strategies, and allocate resources to the most effective channels. The ability to track and analyze results enables continuous improvement and ensures that marketing efforts align with business goals.
7. Global Reach:
Digital marketing eliminates geographical barriers, enabling small businesses to reach a global audience. Through online platforms, businesses can showcase their products or services to individuals around the world, expanding their potential customer base beyond local boundaries. Social media, in particular, allows for the creation of international communities and the promotion of products or services to diverse audiences. This global reach opens up new opportunities for growth and revenue generation that were once inaccessible to small businesses.
8. Adaptability to Market Changes:
The digital landscape is constantly evolving, and consumer behaviors and preferences are subject to rapid changes. Digital marketing provides small businesses with the flexibility to adapt to these shifts in real-time. Whether it's adjusting ad campaigns based on performance metrics or pivoting content strategies to align with current trends, digital marketing allows businesses to stay agile and responsive. This adaptability is a crucial asset, especially in industries where staying ahead of the competition requires quick and strategic adjustments.
9. Building Credibility and Trust:
Establishing credibility and trust is essential for the success of any business. A robust digital presence contributes to building trust among consumers. A professionally designed website, active social media profiles, and positive online reviews all contribute to a small business's credibility. Through content marketing and thought leadership initiatives, businesses can position themselves as industry experts, further solidifying trust with their audience. Credibility and trust are valuable assets that can significantly influence consumer decisions and contribute to long-term success.
10. Enhanced Customer Insights:
Digital marketing provides small businesses with a wealth of data that can be leveraged to gain insights into customer behavior. By analyzing metrics such as website traffic, social media engagement, and email open rates, businesses can understand what resonates with their audience. This valuable information can inform product development, marketing strategies, and overall business decision-making. The ability to access real-time customer insights empowers small businesses to make informed, data-driven decisions that contribute to sustainable growth.
In conclusion, the importance of digital marketing for small businesses cannot be overstated. It serves as a powerful tool for leveling the playing field, enhancing visibility, and building brand credibility. The cost-effectiveness, targeted nature, and measurable results of digital marketing make it an invaluable resource for small enterprises looking to thrive in the competitive digital landscape. As technology continues to advance, embracing and leveraging digital marketing strategies will be essential for small businesses seeking to reach new heights of success in the ever-evolving business landscape.
Follow on LinkedIn