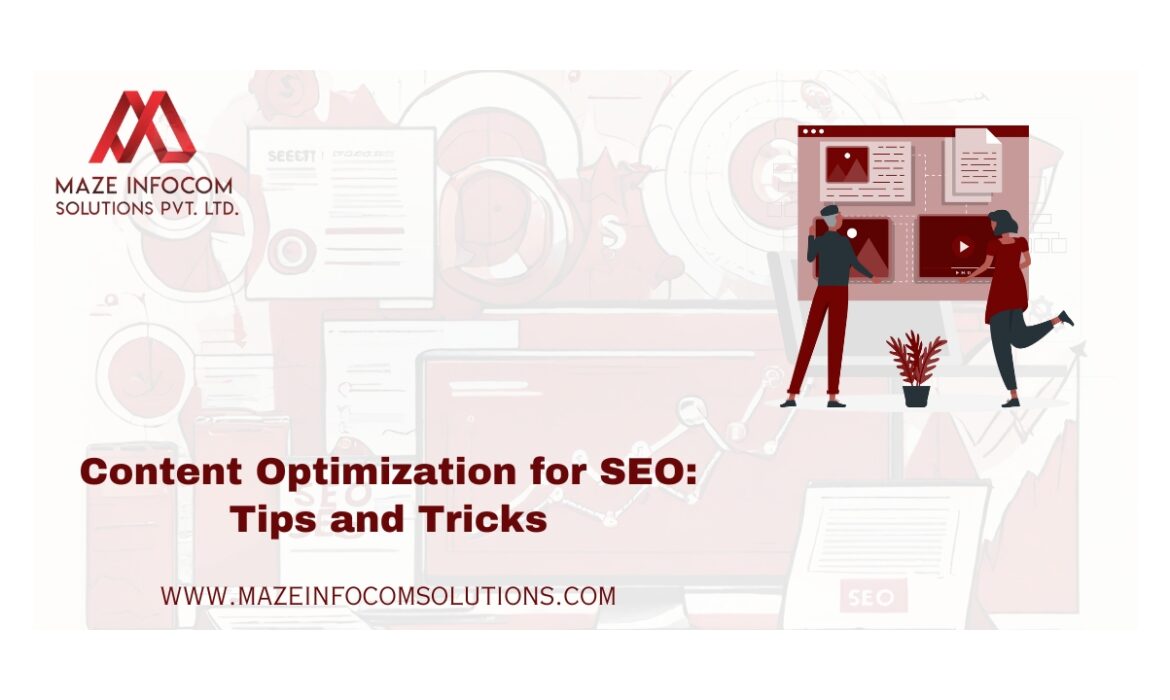 In the ever-evolving realm of digital dominance, one key player stands tall: Content Optimization for SEO. It's not just a buzzword; it's your golden ticket to making your content shine in the dazzling world of search engines. So, buckle up as we journey through the art and science of turning your content into an SEO superstar.
The Power of Content Optimization
Ever wondered how some websites effortlessly snag the top spots in search results? It all starts with understanding the magic of Content Optimization. It's not just about tossing in a few keywords; it's about strategically weaving them into the fabric of your content to catch the attention of those elusive search engine algorithms.
Cracking the Code: Keyword Research Demystified
Imagine having a secret decoder for the language of search engines. Well, that's essentially what savvy keyword research, or Content Optimization, does for your content. Dive deep into tools like Google Keyword Planner, SEMrush, or Ahrefs to uncover the hidden gems—keywords with high search volumes and moderate competition. It's not just about keywords; it's about speaking your audience's language.
Crafting Content Royalty: High-Quality is Non-Negotiable
In a world drowning in content, being mediocre is not an option. SEO-optimized content isn't just about keywords; it's about creating a symphony of value, relevance, and engagement. Strive for content that not only climbs the search ranks but leaves your audience wanting more.
The Art of Seduction: Title Tags and Meta Descriptions
Your content may be a gem, but without a captivating title and meta description, it's just another unnoticed artifact. Craft them with care, incorporating not just keywords, but an irresistible allure that beckons the curious click. It's not just about visibility; it's about becoming the must-click link.
Technical Tango: Dance with Mobile-Friendly Designs
Picture this: your audience is on the move, scrolling through your content on their phones. Will your website be their destination or a frustrating roadblock? Embrace mobile-friendly design like a long-lost friend. It's not just about design; it's about creating a seamless dance floor for your users.
Need for Speed: Accelerate with Page Speed Optimization
In the fast-paced internet world, slow-loading websites are like tortoises in a race. Use tools like Google PageSpeed Insights for effective Content Optimization. Speed isn't just about performance; it's about winning the race to the top of search results. Dive into keyword tools—Google Keyword Planner, SEMrush, or Ahrefs—to find hidden gems through meticulous Content Optimization. It's not just keywords; it's speaking your audience's language. Gear up, optimize content, and surge ahead for online supremacy with strategic Content Optimization.
Structured Data: Your Content's VIP Pass to SERP Stardom
Ever wondered how some search results flaunt those extra details, like star ratings or product info? That's the magic of structured data markup. It's not just about information; it's about standing out in the SERP crowd.
On-Page Symphony: Headers, Subheadings, and the Rhythm of SEO
Imagine your content is a melody, and headers and subheadings are the notes. Make it a harmonious journey for both readers and search engines. It's not just about structure; it's about composing an SEO symphony.
Visual Appeal: Image Optimization Beyond Aesthetics
in Content Optimization Images aren't just eye candy; they're SEO powerhouses. Optimize them with descriptive filenames and alt text to tell search engines what your content is all about. It's not just about aesthetics; it's about painting a vivid picture for search crawlers.
Linking Alchemy: Internal and External Magic
Links are the connective tissue of the web. Strategically weave internal links to guide users through your content labyrinth. External links? They're like endorsements from the cool kids in the SEO world. It's not just about linking; it's about creating a web of credibility.
Off-Page Charm: Backlinks and Social Stardom
Ever heard of the SEO popularity contest? It's called backlink building. Get those quality backlinks from the cool cats in your industry. And hey, your social media game isn't just for likes; it's a subtle SEO dance too. It's not just about links; it's about building your content's fan club.
The SEO Crystal Ball: Regular Content Updates
Picture this: your content evolving, staying fresh, and always relevant. Regular updates aren't just for show; they're your SEO crystal ball. It's not just about updates; it's about staying ahead in the content game.
Analytics Wonderland: Understanding User Behavior
Analytics isn't just a maze of numbers; it's your content compass. Dive into tools like Google Analytics to decode user behavior. What are they loving? Where are they bouncing off? It's not just about data; it's about understanding your audience's secret preferences.
In Conclusion: Your Journey to SEO Stardom
SEO isn't a one-time show; it's an ongoing blockbuster. Armed with a blend of high-quality content, technical SEO finesse, and a relentless commitment to staying on the SEO catwalk, you're ready. It's not just about rankings; it's about owning the digital stage. So, step into the spotlight, and let the magic of Content Optimization for SEO unfold.
Follow on LinkedIn